Travel * Lifestyle * Technology * Investment * Cars * Wine * Food * Family * Society
Our busiest journalists racked up many thousands of frequent flyer miles travelling to all corners of the globe while one of our best and brightest made her final journey.
Chalon-sur-Saône (c) Helen Hayes
Helen Hayes
Helen Hayes:
North America featured prominently in my travels in 2017 with visits to Boston (first time), Washington, Portland, Mt Hood, Mt Bachelor and Bend in Oregon, Sun Valley in Idaho, and six ski resorts in Canada. I also loved my first ever river cruise, on the Rhone, cruising from Arles to Lyon, including a short stint on the Saône up to Chalon-sur-Saône. Queenstown, New Zealand satisfied my ski bug in the Southern Hemisphere winter, and for sunshine, I dived into the many wonders of the Whitsundays and the Sunshine Coast in Queensland.
[query]
Star Trails over Uluru (c) Ewen Bell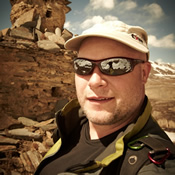 Ewen Bell
Ewen Bell:
My travel highlight was very close to home this year. I had a chance to do a series of photographic shoots around Uluru-Kata Tjuta National Park. By day and by night. I love the land up here. We are lucky to be able to enjoy it, and so easily.
"The centre of Australia is a desert of colour. Sand is stained red with minerals, deep yellow flowers cascade off grevillea bushes and the sky is a flood of blue except for the occasional sunset where clouds throw back hues of orange and pink. In the middle of this colour palette is a massive rock, rising sharply from a rippled landscape. Each fold along its flanks have been drawn into stories by the local Anangu, like bookmarks in a library standing long before there even was a desert. Uluru is drama on a geological scale."
[query]
Migdalia is a 'costumbrista' in Havana (c) Roderick Eime
Roderick Eime
Roderick Eime
: It was a big finish to the year with four back-to-back cruises in Cuba, Panama, Costa Rica and Miami. From an intimate few dozen aboard Peregrine's MV
Callisto
, to the massive 5000+ aboard MSC's brand new
Seaside
, it certainly was an exercise in contrasts. There was also Lindblad's first newbuild in decades, the
National Geographic Quest
and the MSC
Opera
. But if travel truly creates indelible memories, then it was the ride around Cuba on a Harley-Davidson with Ernesto Guevara-March, the youngest son of the fabled revolutionary hero Che, which put the cherry on this cake.
[query]
Cruising among the Antarctic icebergs (c) John Maddocks
John Maddocks
John Maddocks:
Antarctica is like another planet. The sheer scale and beauty of the place is staggering. It's an empty, pristine, other-worldly wilderness. Ninety-nine percent of Antarctica's 14 million square kilometres is covered in ice, some of it four kilometres thick. Sea ice can double the continent's size in winter.
A visit to Antarctica, with its awesome landscapes and wildlife, is considered by many to be the trip of a lifetime. It's a place that can bring you to your knees with its majesty. And now, increasingly, it needs environmental protection. The Antarctic has become our albatross, and we kill it at our peril. A journey to the frozen continent with a responsible tour operator will reveal Antarctica's critical importance to the earth's climate and oceans. It will change your view of the world.
[query]
=-=-=
Kris Madden
Vale Kris Madden: It is with both shock and sadness that we bade farewell to Kris who had just returned from an expedition throughout Melanesia. Soon after returning to her home on Sydney's Northern Beaches, Kris passed away suddenly from a massive heart attack. Kris leaves a legacy of superb travel writing and reporting, conducted with an unusual skill, consummate professionalism and keen insight that is rapidly becoming scarce in today's world of instant news.
The Travel Writers is a collective of highly experienced career journalists with extensive professional portfolios. While coverage of travel and travel-related subjects is our passion, our expertise extends much deeper.